Tiles Inspection Services in India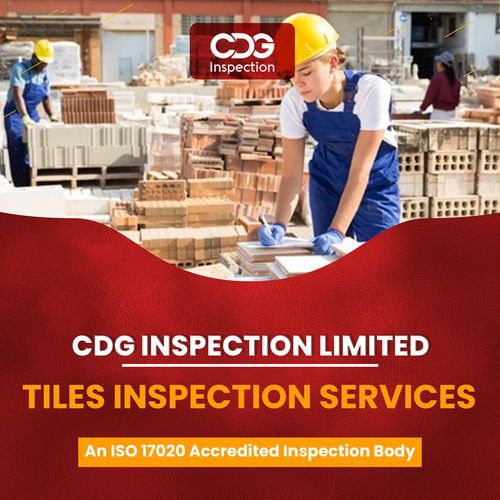 Tiles Inspection Services in India
Price And Quantity
Piece/Pieces

25000.00 - 35000.00 INR
Product Description
CDG provides tiles inspection services in India. Ceramic tiles, glazed ceramic wall tiles, ceramic mosaic tiles, quarry tiles, or paver tiles have several quality control tests that are used to meet product specifications, ceramic tile strength, abrasion resistance to ceramic tile, chemical resistance to ceramic tile, water absorption, dimensional stability, frost resistance, linear coefficient of thermal expansion, and slip resistance tests. 
Inspection of tiles
Resistance of Tiles to chemical substances Resistance of Tile to Chemical Substances Test is used for testing ceramic tiles that are to be used as food preparation counters, bathrooms, flooring in residential and commercial buildings, where tiles may become exposed to food, and chemicals. A solution of hydrochloric acid and potassium hydroxide are the common testing liquids used for testing. Colour difference tests are used to determine which tile surfaces are affected by acids and alkalises. Breaking strength of tiles Breaking Strength of Tile Test establishes whether or not a ceramic tile, glazed ceramic wall tile, ceramic mosaic tile, quarry tile, or paver tile meets the strength requirements as noted in the ceramic tile specifications. The tile strength is measured by the force in pounds to cause the tile to break. The breaking strength of ceramic tile test is measured by using a pressure gauge that reads force in pounds.
Relative resistance to deep abrasive wear of an unglazed Tile Relative Resistance to Deep Abrasive Wear of an Unglazed Tile measures the resistance to deep abrasive wear of a unglazed ceramic tile specifically used for floor installations. A rotating disk is used to perform the test by creating deep abrasive wear into the tile. This method is used to measure the durability of an unglazed tile.
Quality Control Tests have to also be performed in the manufacturing stage. This type of quality control consists of charts that are used to record particle size, milling time, drying temperature, time, compaction pressure, dimensions after pressing, density, firing temperature and time. If importing ceramic tiles from China then performing testing and inspection prior to shipment is critical. Always make sure you when have the proper tiles tests performed by In touch Qualities experienced staff who will create a ceramic tile inspection procedure
Manufacturer of a wide range of products which include Ceramic Tiles Quality Inspection Services, Kitchen Tiles Quality Inspection Services, Floor Tiles Quality Inspection Services, Wall Tiles Quality Inspection Services and Bath Room Tiles Quality Inspection Services.
Levels between the tiles should be equal Tile joint spacing should be equal. Tile joints has to be filled with suitable grouts. Check the grout for proper filling, i.e , without gaps, undulations & colour variation. Tile damages & chip offs has to be checked, Colour variation has to be checked. When tiles are cooled too quickly after the firing process and causes them to develop very fine cracks on the surface, looking almost like a web. This is more common in historic tiles but can still occur in the present. This increases the rate at which tiles hold dirt, which leads to discoloration. This discoloration tends to seep down into the tile itself, which means it can be almost impossible to clean and often replacement is your best option. Many issues with tile are not necessarily major enough to want you to reconsider your choice of your new home. However, sometimes they may be indicative of a larger underlying problem, or the cost to repair may be more than you want to set aside in your budget. For the most part, the tile issues we see are usually minor and more of a cosmetic issue than anything else.
Contact Us
Plot No.- 37, IMT Manesar, Gurugram, Haryana, 122051, India
Phone :09643077962