Leather Products Inspection Services in India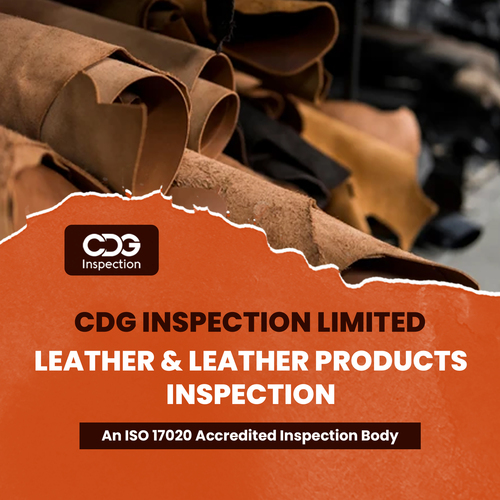 Leather Products Inspection Services in India
Price And Quantity
Piece/Pieces

25000.00 - 35000.00 INR
Product Description
CDG is a leading leather products inspection company in India. Over the last two decades, India has emerged as a large producer of leather goods, a big exporter and importer of leather in terms of volume, and the largest supplier of leather raw materials. Leather product inspections are crucial to ensure that your leather product meets International Standards. As leather represents the main cost of your clothing, footwear or leather goods, ensuring the quality of the leather delivered and the usable surface is essential to secure your purchases. Manual inspection of finished leather hides is time consuming & requires skilled and experienced operators and difficult because it requires careful examination. It is also strenuous as the leather needs to be checked from multiple angles to identify the defects. As in all natural products there is lack of uniformity in hides from same animal species and characteristics vary a lot depending on the area where the animal came from. This holds true for each type of animal from which the leather has been derived. Hence, hide and semi tanned leather classification is subject to a lot of subjective methods especially at the bulk stage. CDG is a leading leather products inspection company in India. Our laboratories have the precision and capabilities to validate professional leather clean labels, and can not only reveal any deficiencies, but also can suggest remedial measures.
a)Chemicals in Leather.
Chromium (VI), certain azo colorants, formaldehyde and pentachlorophenol are harmful substances which may be found in leather. CDG possesses high technology analytical equipment to determine low levels of these chemicals, which can cause health problems to consumers and/or pollute the environment.
b)Handbags and Small Luggage.
The strength of strap fastenings is an important consideration in the quality assessment of handbags and luggage. CDG is able to carry out all strength tests utilizing state-of-the-art equipment to assess the risk of strap failures, whether at fastenings (e.g., buckles) or where the strap is attached to the body of the item itself.
c)Belts.
From an assessment of the components of a belt for labelling purposes, colour fastness (wet and dry rub fastness, and more) to tarnishing of buckles and metal components, CDG can test to all clients' requirements to ensure the products are fit for purpose.
d)Leather Clothing.
Tests such as dry cleaning fastness, light fastness, finish adhesion and veslic rubbing can be carried out on finished garment or materials and components prior to manufacturing. Components such as zip, linings, interlinings and buttons should also be assessed for performance. In addition, a cleansing assessment on the whole garment may also be considered.
e)Small Goods (Purses and Wallets).
Test such as attachment strength of gilt corner pieces, clasp attachment, seam strength and abrasion resistance of linings, flex resistance of outers, and more, can all be carried out on small leather goods items. Strap/handle strength tests, abrasion resistance, flex resistance and seam strength tests are all important for luggage items for obvious reasons. Our high capacity tensile testing equipment ensures that CDG is able to test all luggage items beyond what may be expected of them in use.
Conclusion:
CDG Inspection Ltd is true global provider of Technical Inspection, Verification, Testing and Conformity Assessment for Industrial Markets. The core values of complete independence, transparency and integrity guide us in our mission to deliver first-class services on a constant high quality level to customers around the world. Our Teams of Engineers ensure that the quality and performance of products or installations meet applicable requirements, whether they are regulatory, voluntary or client specific. CDG is a leading third party inspection agency of India.
Contact Us
Plot No.- 37, IMT Manesar, Gurugram, Haryana, 122051, India
Phone :09643077962