Handicraft Inspection Services in India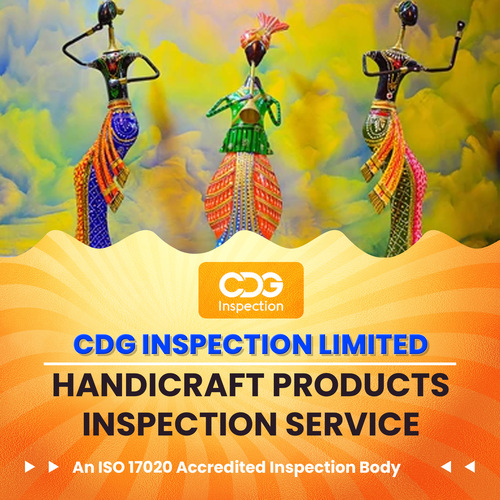 Handicraft Inspection Services in India
Product Description
CDG provides handicraft inspection services in India. In India handicraft industries have a wide range of products made by wood & metals. It represents a rich culture in the whole world. As the items are pretty costly, every buyer needs a quality assurance of the product, he is buying. It needs a brief inspection before dispatch to its destination country. CDG offers the Handicraft inspection service at every stage of supply chain. Our expertise includes product categories such as S.S, M.S, wooden, Brass, Copper Bone, Resin, Painting, Concrete items, MOP, Gift items, Metal, Mirror, Glass, Iron, Leather, Marble item, Furniture (wooden item or Fabric) and Aluminium etc.
Handmade woollen carpets are a lifestyle statement, reflecting the owners taste and aesthetic sense, and as an important element in exuding a certain style and ambiance. The most exclusive types and design styles are collector items which attract very high prices because there may be very few such in existence, if not one offs made to order for the sophisticated collector. Accordingly, inspecting them for conformity is a complicated task. The most critical area of scrutiny is uniformity of yarn size and colour fastness. Asian inspects a variety of types of carpets in differing styles, sizes and shape. In spite of all the vigilance a certain level of flexibility has to be accepted, especially if the end product is a village or nomad carpet, the dyes used are homemade, and while being colour fast the carpet can have deviations in colour, size and shape that the carpet is not completely symmetrical, that the pattern has primitive looks and that the background colour changes in its nuances. Hand knotted rugs possess certain inherent characteristics which aid in their uniqueness. Colour variations in the field and or border, known as a brash, are a beautiful example of such a characteristic. The term a brash, is typically used to denote colour changes or striations running horizontally across the face of a rug. A brash results from variations in the dyeing process. Most commonly, different dye lots may not result in a perfect match, particularly if small dye batches are used. The weaver runs out of one batch and restarts with another which may result in a shade difference. Although most people may prefer consistent and precise colouring in their rugs, a brash is often prized as a beautiful characteristic of an oriental or hand knotted rug.
Given all the foregoing variations the essentials of a hand woven wool carpet inspection are,
Consistency of wool used
Type of knot and conformity to requirement
Number of knots per square inch/meter
Colour fastness of dyes used
Design verification
Size of carpet length x breadth
Reverse side check for holes, stains or inconsistency
Fringe and sides checked for cleanliness and finishing
Weight of carpet and consistency in consignment
Packing and marking.
Contact Us
Plot No.- 37, IMT Manesar, Gurugram, Haryana, 122051, India
Phone :09643077962