Garment Inspection Services In Delhi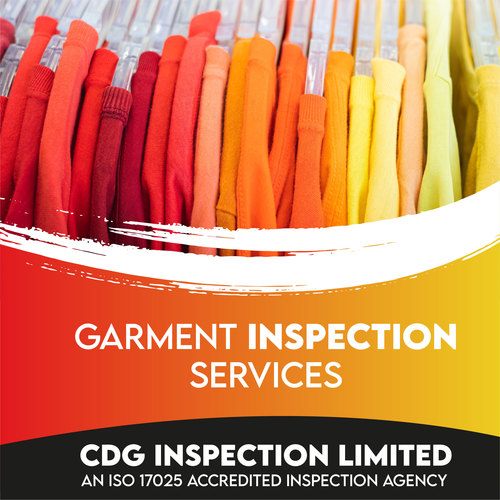 Garment Inspection Services In Delhi
Product Description
CIL provides accredited Garment Inspection / Apparel inspection services in Delhi India. CIL is an ISO 17020 accredited garment inspection agency.
QualityControl for the Garment Industry,
When it comes to quality control for thegarment industry, there are plenty of factors to consider. Clothing andaccessories are made by humans. Hence, they are more prone to quality defectscompared to other mechanical products manufactured in an assembly line. Qualitycontrol inspections happen in every stage, and there need to be designatedquality control inspectors to ensure that products of the right quality reachcustomers. Each part of the garment has to be inspected, measurements, sizing,trim, cloth quality and more. The actual quality control process for thegarment industry depends on the country where the garment is sold and the buyerhouse. Generally speaking,

Garment Quality Control is divided into Three Major Steps,1.Raw Material Inspection

,A finished piece of garment has plentyof raw materials, the cloth, buttons, fabric, zipper and gripper, sewing threadand many more. Simply put, the quality of the garment depends largely on thequality of the raw materials. Hence, its crucial that we start by inspectingthe quality of the raw materials before starting the sewing.Heres all that youneed to consider while inspecting the raw materials,Start by inspecting thefabric. The fabric used goes through a 4 point or 10 point inspection system.Various factors of the fabric like dye quality, color fastness, irritability tothe skin, etc. are checked at this stage. Since the fabric comes in directcontact with the skin of the wearer, it has to be thoroughly checked forquality.Next, the other raw materials used like trims, zippers, and grippers,and buttons are quality checked. You have to check if these materials aresturdy, of the right color, of the right size, etc. during zipper inspection,the sliders, puller or the pull tab is operated to check if the zipper operatesseamlessly. The color of the zipper must suit the finished garment. The zipperhas to be assessed whether it meets the other buyer specifications like non toxic,nickel free, azo free, etc.Following this, the sewing thread is inspected. Thethread determines the life of the garment. Hence, its evaluated under thefollowing criteria tenacity, yarn count, yarn elongation and yarn ply. Additionally,the color of the thread matters a lot. It has to be checked whether the colorsuits the garment.For buttons, the following factors must be checked size must meet buyer specifications, the colorof all buttons should be uniform and similar to what was specified by thebuyer, broken buttons, etc.

2. InProcess Inspection

,

This is the second stepof quality control and occurs during the production of the garment. The mainreason for this step is to avoid defects during production. Nearly 60 to 80 of garment defects can be eliminatedwith this step.

3. Final Inspection

,This is the final stage of theinspection process and is carried out before the delivery of an order. Apartfrom evaluating the quality of the garment once again, this stage checks theorder number as well.
Contact Us
Plot No.- 37, IMT Manesar, Gurugram, Haryana, 122051, India
Phone :09643077962