Garment Inspection Services In Ahmedabad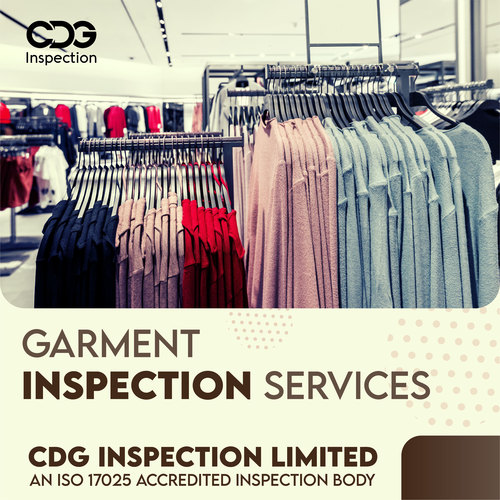 Garment Inspection Services In Ahmedabad
Product Description
CIL provides accredited Garment Inspection / Apparel inspection services in Ahmedabad Gujarat India. CIL is an ISO 17020 accredited garment inspection agency.
Third party inspection has become a key part of many garments importers supply chains ,With an inspection team on the ground, you can see exactly how your products look without needing to personally visit the factory to check. But you need to clearly specify your requirements and steps for inspection to get a truly accurate report of your orders quality. Lets look at the five steps to garment inspection you should always ensure your QC staff follow.

1. MEASURE GARMENTDIMENSIONS

, The most important function of any piece of clothing is that it fits the end consumer as intended. Every garment importer can attest that customers will often return a garment if it does not fit as expected. Ill fitting garments do not just create extra costs for you in the form of unsellable products. They can also create long term problems as once loyal consumers disavow your brand and turn to a competitor with better quality control. Unlike mass manufacturing for other products, which often uses precise machinery and automation, the work of manufacturing garments is still largely done by hand. This results in a greater margin for error in each piece of clothing. Discrepancies in dimensions are inevitable when manufacturing garments. That is why any thorough garment inspection should include detailed measuring of dimensions.
Packaging inspection for garments, Most garments are sealed in polybags by factory staff before being packaged in retailer and shipping cartons for transit. Incorrectly packaging and sealing your garments can lead to dust and moisture permeating and soiling your products. And failing to comply with legal requirements for suffocation warnings on polybags could lead to fines. Inspecting packaging for potential quality issues in transit and distribution includes verifying , Polybag sealing method
,
Polybag size
,
Appropriate labelling, barcodes and price tags
,
Retail artwork and printing
,
Carton assortment. When ordering a number of different sizes of garments be sure to consider how to sort these garments among shipping cartons. For example, how many womens dresses of each size, small, medium, large and extra large, should each carton contain, Imagine the frustration of receiving 20 extra small dresses and only three extra large dresses when you intended to receive the same proportion of every size. You can prevent this problem by including assortment in the specifications you provide your supplier and inspection team.

4. TEST FABRIC FOR CONFORMANCE TO QUALITY STANDARDS,

For some products, such as promotional goods, the quality of input materials might not drastically impact salability. But fabric quality is a major determinant of the quality and salability of the finished product when manufacturing garments. Product testing of your garments, both on site and in a qualified laboratory, provides assurance that your product meets your quality standards
5. REPORT ON QUALITY DEFECTS AND SEVERITY
, Visual inspection for quality defects is acritical step to any professional QC inspection for garments .Like those found in other types of products, different quality defects found in garments often differ in severity. Some defects may be easily overlooked by customers, while others are likely to result in product returns. That is why QC professionals typically classify defects into one of three categories , minor, major and critical .Some common defects garment importers might face include , An untrimmed thread, Shading variance between different pieces of the same style or different parts of the same piece. A loose needle left in the garment. Most garment importers would agree that a loose needle left in a garment is a more severe issue than an untrimmed thread because of the hazard it poses to the consumer. But the severity of other defects might vary based on your intended market and sale price. Setting defect classifications before quality control inspection for garments will help ensure that QC staff consider all defects in accordance to your specific quality standards.
Contact Us
Plot No.- 37, IMT Manesar, Gurugram, Haryana, 122051, India
Phone :09643077962