Fire Safety Audit in Ghaziabad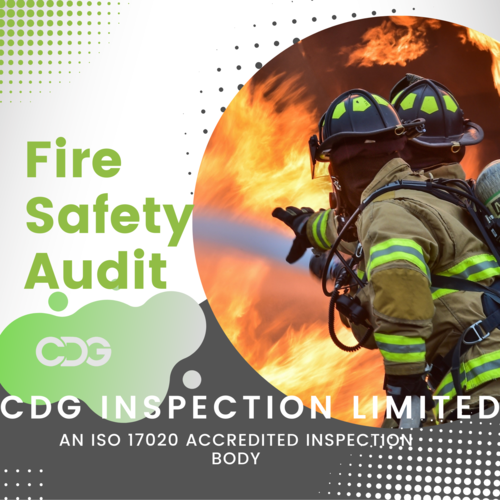 Fire Safety Audit in Ghaziabad
Product Description
CDG is an ISO 17020 accredited leading fire safety audit / inspection company having Pan India presence. Audits and Inspections are in our DNA since 2004.We conduct fire safety inspection for all kinds of building structure (hospital, school / college, commercial building, residential complex, large shopping malls, theatres, large dance halls and training institutes, etc.). We have qualified & experienced fire safety inspectors. With a wide network of offices & large pool of inspectors we are able to provide quick inspection services in any part of India.
The occurrence of any fire has the potential to cause severe damage to both life and property. A Fire Safety Audit is the most effective tool for assessing the fire safety standards of your facility. It helps the owners to identify areas where improvement can be made and develop an action plan, in addition to emergency preparedness and mock drills.
CDG is carrying out regular Fire Safety Audits for High Rise,
The main focus of these fire safety audits is:
A comprehensive 360-degree assessment of building.Checking adequacy of fire safety equipment & their maintenance check.Checking compliance of building structure with relevant fire safety norms.Checking preparedness for fire incidences (awareness, training etc)Mandatory legal documentation.Emergency preparedness and response check for occupants.Enhance the fire safety measures of buildings.Identification & control of ignition sources in areas where flammable chemicals are stored / handled / transferred.Review of chemical compatibility in storage areas and to suggest appropriate fire loss control measures.Review of electrical hazard which are potential causes of fire.Review of fire detection measures adopted & to suggest suitable improvement measures
Review of the various active (fire hydrant, sprinkler, portable fire extinguishers) and passive fire protection requirements for chemical storage and handling areas and to suggest improvements as necessary
Review of Fire Alarm system and emergency fire system of plant.Review of contractor safety awareness (chemical spill, firefighting, emergency communication, knowledge of plant hazards & safety regulations) and to recommend suitable improvement measures to enhance contractor safety.Review of safety awareness and safety training requirements (training identification and efficacy) of employees with respect to hazards present.Benefits of Our Fire Safety Audit.Know your existing compliance level with applicable fire safety regulations.Our inspection is based on international fire safety standards like: NFPA, NBC, IFSS, ANSI, NEBOSH, etc.On completion of the fire safety inspection, you will receive a detailed inspection report with index/score for your building. It will help you in identifying repair or replacement needs of fire equipment.
Contact Us
Plot No.- 37, IMT Manesar, Gurugram, Haryana, 122051, India
Phone :09643077962