C-TPAT Security Audit in Kandla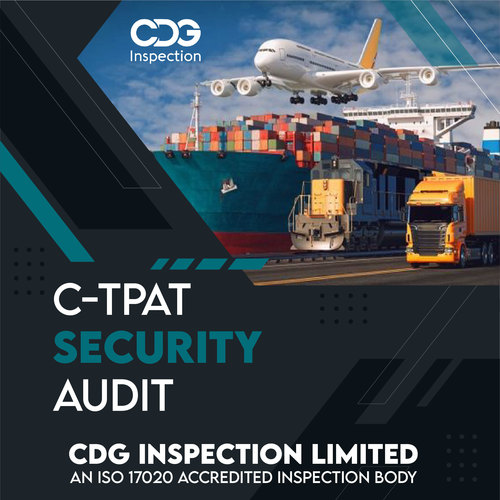 C-TPAT Security Audit in Kandla
Product Description
CIL provides accredited C-TPAT security audit/inspection services in Kandla, Gujarat, India. CIL is the only accredited inspection agency in India to conduct C-TPAT security audits. CIL is an ISO 17020 accredited inspection agency
.CDG qualified auditors assist organizations toassess and enhance security measures throughout their supply chains and ensurecompliance with security requirements. We perform supply chain security auditsagainst all Customs Trade Partnership against Terrorism (C TPAT global andregional requirements) ensuring,
Outside Barriers and Physical Security
Factory Internal Security
Factory Employee Security
Shipping Dock Security
Key and Seal Controls
Security Processes
Container and Merchandise Movement
Computer Systems Security and Controls
Securing the Global Supply Chain
Customs Trade Partnership Against Terrorism (CTPAT) is avoluntary government business initiative to build cooperative relationshipsthat strengthen and improve overall international supply chain and India. CTPATrecognizes that U.S. Customs and Border Protection (CBP) can provide thehighest level of cargo security only through close cooperation with theultimate owners of the international supply chain such as importers, carriers,consolidators, licensed customs brokers, and manufacturers. Through thisinitiative, CBP is asking businesses to ensure the integrity of their securitypractices and communicate and verify the security guidelines of their businesspartners within the supply chain. A third party CTPAT audit will ensure thesecurity of your supply chain, verify your compliance, and improve Indiasecurity.
The CDG benefits,
In depth local knowledge with auditors attuned to theculture, laws and practices of their region. CSR experts receive regulartraining on regulations and best practice. Global coverage across 85 countriesin Asia, Africa, Europe, North and South America. Continuous improvementapproach drives long term change and empowers suppliers to act. Online programmanagement book audits, make payments and download detailed reports. Customcompliance dashboard to assess supplier performance, track progress andvisualize your supply network.
C-TPAT Audit and Compliance
The Customs Trade Partnership Against Terrorism (CTPAT) is asupply chain security program led by U.S. Customs and Border Protection focusedon improving the security of private companies supply chains with respect toterrorism. No matter where your supply chain extends to, a CDG auditor can beonsite within 48 hours to perform security audits of all CTPAT global andregional requirements. Additionally, CDG can help your company set up globalauditing programs to vet and monitor every new supplier you enroll. Byparticipating in the CTPAT certification program, your company can take anactive roll in maintaining a secure U.S. import environment, as well asextending those secure practices throughout your global supply chain.
Contact Us
Plot No.- 37, IMT Manesar, Gurugram, Haryana, 122051, India
Phone :09643077962