C-TPAT Audit in India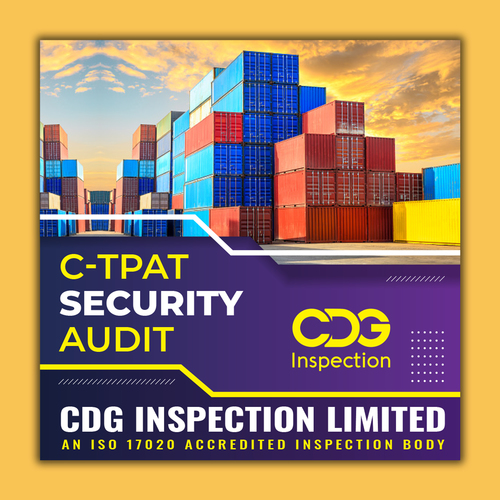 C-TPAT Audit in India
Product Description
Security in the supply chain encompasses many areas from the selection of business partners and vendors to the implementation of the facility or company-wide security and worker awareness programs. A well-established Security Programs purpose is to ensure that every step of the process from receiving raw materials to delivery of the final product has appropriate controls to maintain product and cargo integrity.
Supply chain security is a growing concern among Brands, Licensees, and Factories. Establishing and maintaining an effective supply chain security management program can reduce risk, improve your marketability and company reputation to international brands and potential business partners.

Security in supply chains has become an important topic for major brands and retailers sourcing goods globally. A number of security initiatives and standards were created to protect supply chains from being misused for illegal and unethical purposes (terrorism, smuggling, sabotage, stealing of intellectual property, etc.). CIL Supply Chain Security Program was developed as an effective tool to evaluate security risks at production facilities and identify improvement opportunities and it is based on recognized international standards.

C-TPAT is a voluntary partnership between the US Customs and Border Protection agency (which is part of Homeland Security) and trade which is said to cover over 50% of all imports by value to the USA. It is therefore vital that UK and other EU based exporters understand its importance and the implications for their companies as they establish trade links with US markets.


CIL's qualified auditors assist organizations to assess and enhance security measures throughout their supply chains and ensure compliance with security requirements. We perform supply chain security audits against all Customs-Trade Partnership against Terrorism (C-TPAT global and regional requirements).


Customs-Trade Partnership against Terrorism (C-TPAT) is a voluntary government-business initiative to build cooperative relationships that strengthen and improve overall international supply chain and U.S. border security.
C-TPAT recognizes that U.S. Customs and Border Protection (CBP) can provide the highest level of cargo security only through close cooperation with the ultimate owners of the international supply chain such as importers, carriers, consolidators, licensed customs brokers, and manufacturers.
Through this initiative, CBP is asking businesses to ensure the integrity of their security practices and communicate and
verify the security guidelines of their business partners within the supply chain. A third party C-TPAT audit will ensure the security of your supply chain, verify your compliance, and improve U.S. border security.
Contact Us
Plot No.- 37, IMT Manesar, Gurugram, Haryana, 122051, India
Phone :09643077962